Mike McCabe, former Executive Director of the Wisconsin Democracy Campaign and founder of the grassroots Blue Jean Nation, has signaled a willingness to run for the office of Wisconsin governor in 2018.  Almost 200 Wisconsinites signed on to a Draft Mike Letter that said in part:
We need you to run because Wisconsin politics has grown corrupt and there is no one in our state who has worked harder for a longer time and done more to fight political corruption than you. Truth is becoming an increasingly scarce commodity in our society, and no one in our state has demonstrated a greater devotion to truth telling than you and been more willing than you to speak the truth even when few want to hear it and some actively seek to silence it.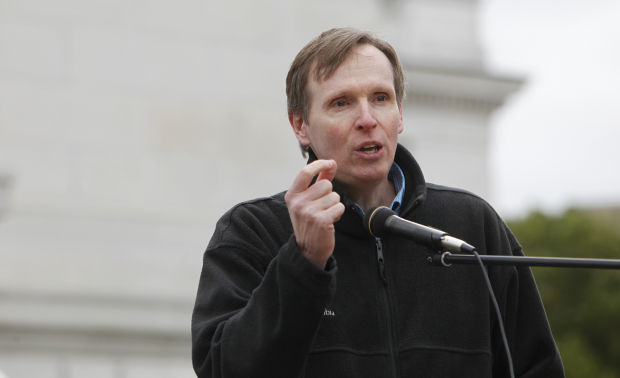 Personal Disclosure:
I've known Mike McCabe for almost 20 years, have donated more than once to the Wisconsin Democracy Campaign and Blue Jean Nation, and have interviewed Mike on several occasions (
including here
). Should he decide to run for governor, I will support him for pretty much the same reasons stated in the
Draft Letter
.
In some ways Mike McCabe is the political establishment's biggest nightmare: a smart guy who understands and cannot be controlled by "the system" while representing an authentic voice for THE PEOPLE.
So if Mike McCabe does in fact run for governor, should he run as a Democrat? Republican? Green? Libertarian? Independent? Something else? Here are some possible scenarios:
The Jesse Ventura Scenario:
In 1998 former pro-wrestler Jesse Ventura ran for governor of Minnesota on the Reform Party ticket. He
won the office
with 37 percent of the vote against Democrat Skip Humphrey (28 percent) and Republican Norm Coleman (34 percent). I'm not sure if Reform Party sympathizers in Wisconsin have any interest in McCabe, but my guess is that the Wisconsin Green Party would welcome him with open arms, especially since the Green Platform has much in common with Blue Jean Nation principles.
Could McCabe pull off a Jesse Ventura style victory on the Green ticket? Obviously Ventura started his race with much greater name recognition. On the other hand, more important than name recognition that year for Ventura was the fact that he did generate grassroots enthusiasm across the state (especially in rural areas) AND was invited to participate in debates with the establishment party candidates. McCabe will generate grassroots support in rural and urban areas, but will the establishment let him debate? I think that's the key factor in the Ventura Scenario.
The Phil LaFollette Scenario: In the 1930s neither Wisconsin's Republicans nor Democrats were equipped to do the heavy lifting necessary to respond effectively to the demands of the Great Depression. Fighting Bob LaFollette's sons Philip and Robert Jr. created the new Progressive Party out of a coalition of dissatisfied elements among the GOP and Democrats and farm/labor interests. In 1934, Phil LaFollette was elected governor as a Progressive, and the party elected candidates to a variety of other offices including US Senate and House of Representatives. The Progressive Party did not last into the 1950s, but had a meaningful impact on state politics in its heyday.
Is Wisconsin ready for another new party movement? If you think about it, conditions now are [unfortunately]not that different from the 1930s: the state's economy is under performing, while the GOP and Democrats are deeply unpopular with the population at-large. From the inception of the Blue Jean movement in 2015,
McCabe himself has expressed
a preference for working within the two-party system. So if a Phil LaFollette scenario is to prevail, it will have to be led by a coalition of volunteers who draft McCabe into a new party arrangement. This is not a very likely scenario, but it's probably the one that Wisconsin most needs at this point in time.
The Bernie Sanders Scenario: In 2016, Bernie Sanders (a democratic Socialist elected as an Independent for US Senate in Vermont) chose to enter the Democratic Party primaries to run against Hillary Clinton. This is probably the "easiest" way for McCabe to run for governor ("easy" in the sense of not having to take ownership of Green Party or other third party baggage, or being saddled with having to create an entirely new party; he'd merely have to announce an intention to run in the Democratic primary). From the leaked DNC emails we know that the Democratic Party establishment was hostile to Sanders from day one of his campaign announcement, and I have no doubt that something similar would happen here in Wisconsin: not necessarily an attempt to sabotage McCabe's campaign, but an active effort to dismiss or marginalize it while the party hierarchy searches for a "safe" corporate candidate.
If Mike chooses to operate within the Bernie Sanders scenario, there are two additional problems to consider. First, if in the event he does not win the primary, his campaign is over in August and he is  then put in the position of having to endorse the person who does get the nomination. That can be okay if the McCabe campaign succeeds in getting the Democratic Party to rebrand itself along the lines suggested in the Blue Jean Nation blueprint. However, I don't see that happening.
The other problem in the Bernie Sanders scenario happens if Mike actually does get the Democratic party nomination. The last McCabe-like candidate the Democrats had at the top of the ticket was Ed Garvey in 1998. That year Republican incumbent Tommy Thompson, like Scott Walker today, had an immense campaign war chest, a national following, and a state mainstream media unwilling or unable to give fair treatment to Garvey's candidacy. Worse, the institutional Democratic Party that year treated Garvey with what at the time seemed like contempt. Instead of being thrilled by the fact that they finally had a representative of the democratic wing of the Democratic Party carrying the banner, they pretty much treated him like a sacrificial lamb against Tommy the unbeatable Titan. Needless to say, the Dems did not remake the Party in the image of the citizen-led agenda promoted by Garvey and the rest, as they say, is history.
The Blue Jean Nation Scenario: Mike McCabe's Blue Jean Nation book doesn't express much support for third party activism. I also don't perceive Mike as someone who's merely interested in announcing an intention to run in a primary as a "traditional" candidate might do. The Blue Jean Nation Scenario, as I conceive of it, would require average everyday people (like those people who signed the draft letter) to begin "taking over" their county Democratic Party. When each county party has a dominant presence of Blue Jean Nation supporters, then the Party will have been remade and someone like Mike McCabe waltzes to the nomination [although if that kind of takeover took place Mike might not even have to run because so many people with similar values would have been empowered]. Such a take over could take place in the Republican Party too, but it's pretty obvious that Scott Walker's grip on the GOP right now is so total that we're not as likely to see the Blue Jean movement over there. At least not as early as 2018.
Can the Democratic Party be remade into an electoral vehicle for the Blue Jean Nation? Maybe the more important question is, do We The People want to shift the direction of our state? As I'm sure Mike McCabe himself would agree, a run for governor isn't really about what's best for HIM. It's about what's best for We The People. None of the scenarios outlined above will be easy, but when has meaningful political change ever been easy?